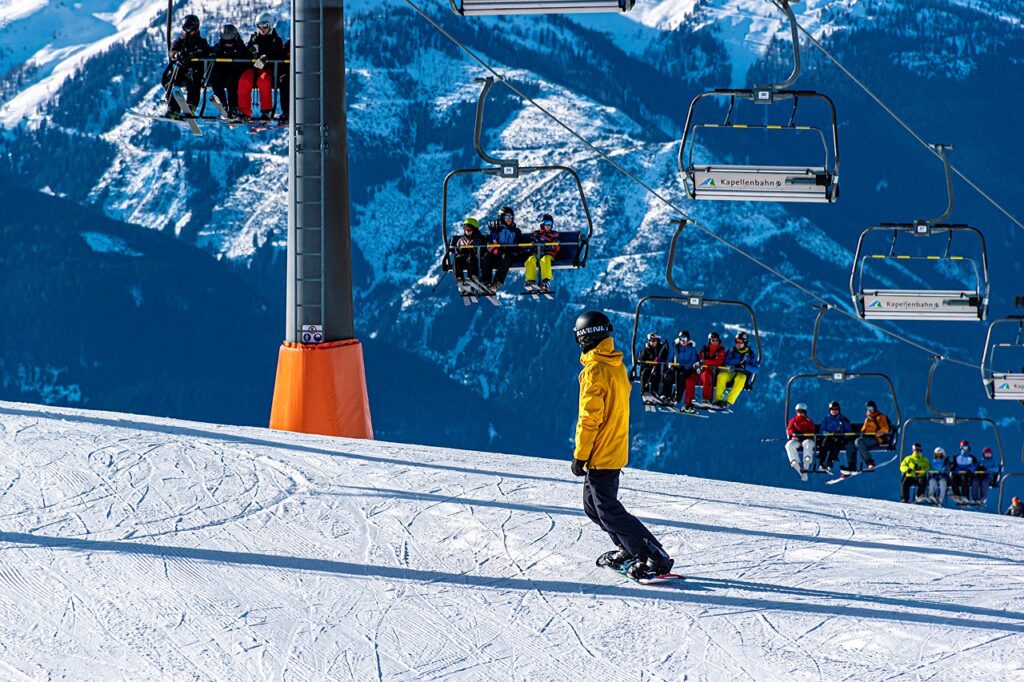 Everyone knows that skiing is an expensive sport and that most of these elegant ski resorts are way too expensive. That's why we visited all the ski resorts in Europe to present you this list below with the most affordable ski resorts for small budget travelers. No more wallets crying.
YES, you are not dreaming! Affordable ski resorts are a reality and here is a list of the most affordable resorts with the same breathtaking views and similar ski terrains as the luxurious ones.
1) Livigno, Italy
Based high up in the Italian Alps and close to the Swiss border, Livigno is one of the most affordable ski resorts around, mainly down to it being a tax-free region. As a high-altitude resort, Livigno is snow guaranteed and the slopes are open from the start of November to the end of May.
This duty-free Italian ski resort has more than 110 km of slopes just perfect for beginners and intermediate skiers. Advanced skiers and snowboarders will be satisfied with the two black runs included but also with the numerous off-piste opportunities to explore if they are willing to.
So there is something for all skill levels.
Due to the tax-free area shopping, dining, and clubbing are always at low cost. For example, the price for a beer in and around the slopes is about o €2.5-5 (£2.00-£4.50), and for a full restaurant dining, you will need around €8-10 (£7.50-£9.50), plus the breathtaking views keeping you company. Clubbing is also around €4-5 (£3.50-£4.50) for a drink, making it even more desired by the younger skiers who want to party.
With over 230 shops plus the resort's tax-free status, shopping was never easier. Livigno has been described as a paradise for shoppers. The winner of the 2012 World Snow Awards is offering you a 6-day ski pass that will cost you €260 (£225), and a day pass that costs €52 (£45).
There are plenty of hotels to choose from based on your budget (1-5 Stars hotels). To get to Livigno you have to take a flight to Milan Bergamo and then get on the bus for an easy ride up to the resort.
2) Borovets, Bulgaria
The oldest Bulgarian ski resort and one of the cheapest all over Europe, Borovets is based on the northern side of Bulgaria's Rila mountain and is spreading down the side of the Musala Ridge, reaching an altitude of over 2560 meters. Borovets is offering more than 55 kilometers of ski terrains that are divided into over three ski centers, Yastrebetz, Markudjik, and Sitnyakovo.
Borovets with an average temperature of 0-10 degrees in January plus the resort's recently increased snow-making guns that can cover almost 55% of the ski area, skiing won't be a problem from September to April. The upper half of the mountain is extremely above the tree line and offers plenty of infinite pistes, most of which are just perfect for beginners and intermediates.
The cheap drinks, food, hotels, and ski pass are making all this ever more desirable. You can get a drink with around 4-5 BGN (£2.20-£3) so party animals and especially the younger audience will love it here. Away from the cheap ski resort, there are plenty of things to enjoy such as thermal springs or the traditional Bulgarian village Tsarska Bistritsa.
The ski pass for a week is around £160 and the hotels are about £30-£40 for a night such as the choices of Samokov hotel and Rila hotel that cant do no wrong. To get to Borovets you need to get to the Bulgarian capital Sofia first and then catch the bus. After a small journey of around 90 minutes, you will be there to enjoy your holidays.
3) Les Houches, France
Every ski resort based on or neighboring with Alps mountains tends to be expensive such as Chamonix, Zermatt etc. For a cheaper alternative at Alpis, Les Houches based in the Chamonix Mont-Blanc Valley is offering you the best choice for breathtaking views with an altitude between 900 and 1950 meters.
Les Houches is offering around 50 kilometers of skiable terrain just perfect for beginners and intermediate skiers. Over 15 ski lifts are serving the purpose to get you there in no time.
For experienced and freestyling skiers there is the famous terrain La Verte des Houches, an extremely technical piste that many pro skiers are visiting to test their skills every year.
From the top of Les Houches, you can enjoy the magnificent 360 view of the Mont Blanc Valley and the other mountain chains.
If you are desiring a black run and some terrace clubbing, Chamonix's ski slopes are only 8 kilometers away as this cheap resort is based at the entrance to the Chamonix Valley.
The average ski pass cost is around £40 in contrast with Chamonix even reaching £300 at peak season. Drinks are similar to UK prices so you can grab a beer at 3£-4£ making it even more desirable for the younger skiers. To get to Les Houches you have to catch a plane to the Geneva airport and then take a one-hour drive to get to the resort for your not-so-expensive ski holidays.
---
---
Articles Recommended:
---
4) Vogel, Slovenia
Vogel is an affordable ski resort for all budgets and families and is based in Gorenjska, Slovenia. This magnificent yet cheap resort is a part of the Triglav National Park in the Julian Alps overlooking Lake Bohinj.
From the Bohinj Valley, a magical almost vertical gondola will take the guests up to the winter sports area reaching almost 1500 meters. There are a total of 22 kilometers of skiable terrains and breathtaking views, including the crystal Lake Bohinj, waiting for you to enjoy.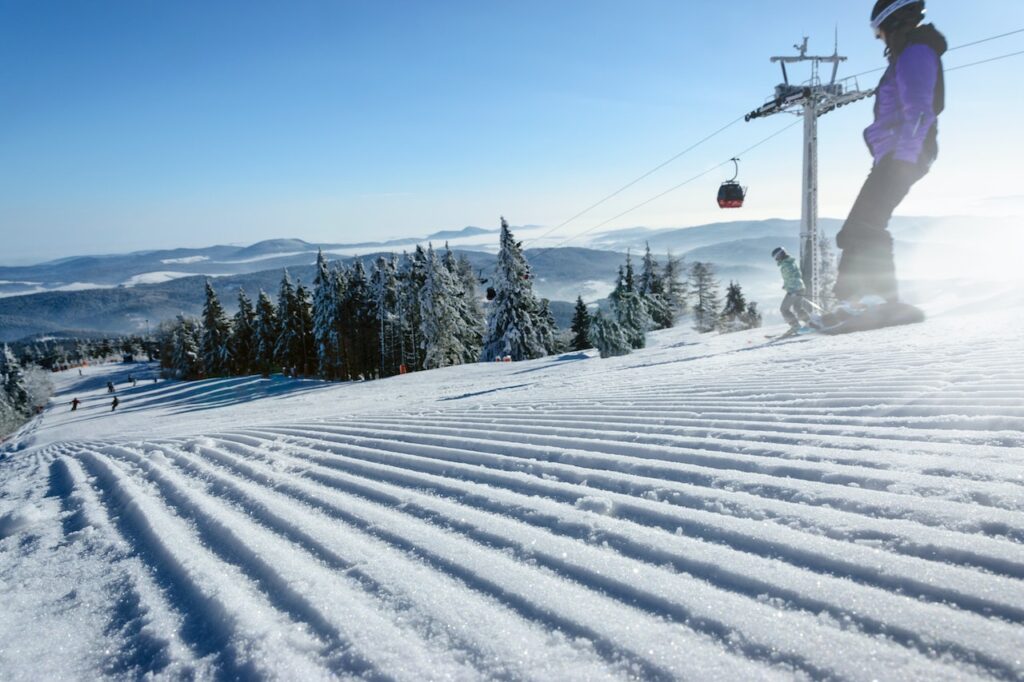 Around 8 lifts will take you to the piste of your choice as there are many to choose from, mainly for beginners and intermediate skiers. Off-piste exploration is a must if you are experienced enough so you can get the full feeling of lakeside skiing.
The Žagarjev graben slope is one of the best attractions of Vogel as it is a valley that covers up to 8 kilometers and reaches up to 1100 meters, that offers you skiing down from the highest point in the ski resort down to Lake Bohinj. The ski pass for a day costs max £30 and a six-day pass goes around £140. Nightlife is not that good here but that doesn't mean you can't get a beer for £1.80 or a bottle of wine for £5 from the local stores.
If you would like clubbing and partying at night the capital of Slovenia Ljubljana is around an hour's drive away. There are plenty of hotels for all budgets at the resort and in the near towns. To get to Vogel you have to fly to Ljubljana and then take a car ride down to Bohinj.
5) Grandvalira, Andorra
The largest ski area in the country with over 220 kilometers of ski terrain is making Grandvalira the only resort exterior of the Alps to have more than 200 kilometers of skiable pistes. Also, this huge skiable area gave Grandvalira a spot on the list of the world's 40 largest ski resorts.
Forming this gigantic area in the Pyrenees are three resorts combining their powers to achieve that, El Tarter, Pas de la Casa, and Soldeu. The Pyrenees mountain club has a completely different vibe to the Alps, with the same breathtaking views but at a lower cost.
There are around 70 lifts in this area, including three gondolas and the six-seater lifts, to get you around every piste you want. These lifts are carrying around 110.000 guests per hour. It also includes more than 1000 modern snow cannons that can cover half of the terrain of this gigantic area, so snow will never be a problem here.
The average daily ski pass is around £85 giving you also access to five other ski resorts that are linked with Grandvalira. If you get bored of winter sports there are many more things to do in this area and its neighbors. Ziplining or enjoying the alpine rollercoaster is a must in your free time for relaxing and breathtaking views.
Cheap partying and clubbing are also available, with beers at £2.50, at the famous clubbing resort of Pas de la Casa with its numerous bars. When it is time to go you can easily organize a trip to France's Toulouse or Spain's Barcelona which are available within three hours.
There are many cheap hotels in the area and the neighboring cities, and even if you want to spend more money on your apartment then the five-star Hermitage hotel is a must. The only minus thing is that Andorra doesn't have an airport. The closest airport is l'Alguaire de Lleida (France) at 160 kilometers. Other airport options are Barcelona (Spain) at 220 kilometers away and Toulouse (France) at 250 kilometers. Either way from all options you have to catch a bus to reach Andora's Grandvalira. It's worth the time.