Europe has some of the most luxurious and elegant ski resorts in the world. But only 10 of these legendary resorts managed to get into the list with thousands and even millions of guests each year. Alps and Dolomites ski resorts for sure are the best of their kind.
1) Courchevel, France
Les Trois Vallées (Three Valleys) is the biggest ski property in Europe, connecting several ski resorts. The most famous and largest one is Courchevel and its six interconnected villages that celebs and pro skiers love to visit not only for skiing but also for the lifestyle, the luxury, and the boutiques.
Courchevel's own 60 lifts will give you access to a total of 650 kilometers of connected ski runs spread across 10 summits with altitudes over 2500 meters. So you can explore more than just the 150 kilometers of alpine runs.
Experts of the sport will love Courchevel from the first seconds with its amazing pistes, off-piste terrain, and tree skiing. All six separate Courchevel villages have good pistes for beginners and intermediates, the views from each one of these pistes are breathtaking.
Plus not only one-fourth of Courchevel's pistes are for beginners and one-third for intermediates there are free lifts in the beginner areas and safety vests for kids. The region is known for its exceptional snowfall and Courchevel 1850 is so high there are still loads of snow in April.
Courchevel not only offers you the best ski experience but also its luxurious rooms, the magnificent several Michelin-starred restaurants, and the 15 five starts hotels will help you live your best life.
2) St Moritz, Switzerland
St. Moritz is Europe's first winter resort and the original home of skiing and skating, so it's hard to talk about the best ski resorts without this amazing old but still luxurious and modern resort. Not only St. Moritz is nearly 6000 feet above sea level it also has sun by its side for around 320 days a year, talk about a better duo to make your ski experience unforgettable.
Last winter after Badrutt's Palace took over management the resort exploded in reservations even more. Many pro skiers, celebrities, and royalty from all over the world are enjoying their time on the magnificent skiing terrains, in world-class hotels and restaurants, and in elegant shops.
Numerous world ski competitions are being held at this famous resort especially after St. Moritz hosted the Winter Olympics in 1928 and 1948. Its Olympic ski attracts many pro skiers and competitions, so that's should tell you something about the prestige of this resort.
That doesn't mean St. Moritz is only for Olympians and pro skiers. There are numerous ski terrains for every skill level and long runs, and more than 25 lifts to choose from. Above St. Moritz and reached from the town by the Corviglia Funicular, trails from the 2,486-meter town of Corviglia have magnificent Alpine views.
Finally, this luxurious resort is offering a 5-star hotel after the opening of Grace La Margna, there are many more hotels to choose from such as Badrutt's Palace Hotel and Kulm Hotel which for sure are as good.
---
Articles Recommended:
---
3) Kitzbühel, Austria
Just 2 hours from Munich and not far from Innsbruck and Salzburg is one of the prettiest and most romantic ski resorts. Kitzbühel is based in the Austrian Alps with its colorful, well-designed-modern houses and its deluxe hotels and shops like those of Cortina or St. Moritz. Though there are plenty of choices for every budget and every family.
Austria's most popular skiing resort has it all, from ski schools for beginners to the most challenging courses of the World Cup circuit like Hahnenkamm, the most demanding and difficult downhill terrain. Hahnekamm is usually used for World Cup races just like in January 2022 when Dave Ryding became the first British skier to take the gold medal in the skiing World Cup world.
There is also a special area for freestyles called Bichlalm. There are over 70 mountain cabins and restaurants for you to relax, recharge your batteries, drink a hot chocolate or enjoy your lunch with the company of the amazing view over the slopes.
Kitzbühel and its neighboring SkiWelt are offering a total of 450 kilometers of skiable pistes being served by over 90 lifts. So they are terrains for every skill level. If you want a luxurious new hotel to stay in Kitzbühel then the recently opened Six Senses resort is your best choice.
4) Chamonix, France
There can be many disagreements about Europe's top skiing resorts but Chamonix has always been one of the best. Based in a deep valley at the feet of Mont Blanc, Chamonix has peerless winter sports credentials, guiding mountaineers and skiers on Mont Blanc and its slopes for over 150 years and hosting the first Winter Olympics in 1924.
Chamonix gained worldwide fame as the name of the first Winter Olympics, fame which continued raising because of its mesmerizing and challenging terrain. At Grands Montets, one of the six different ski areas of Chamonix, you can ski down several slopes with the world's greatest height differential.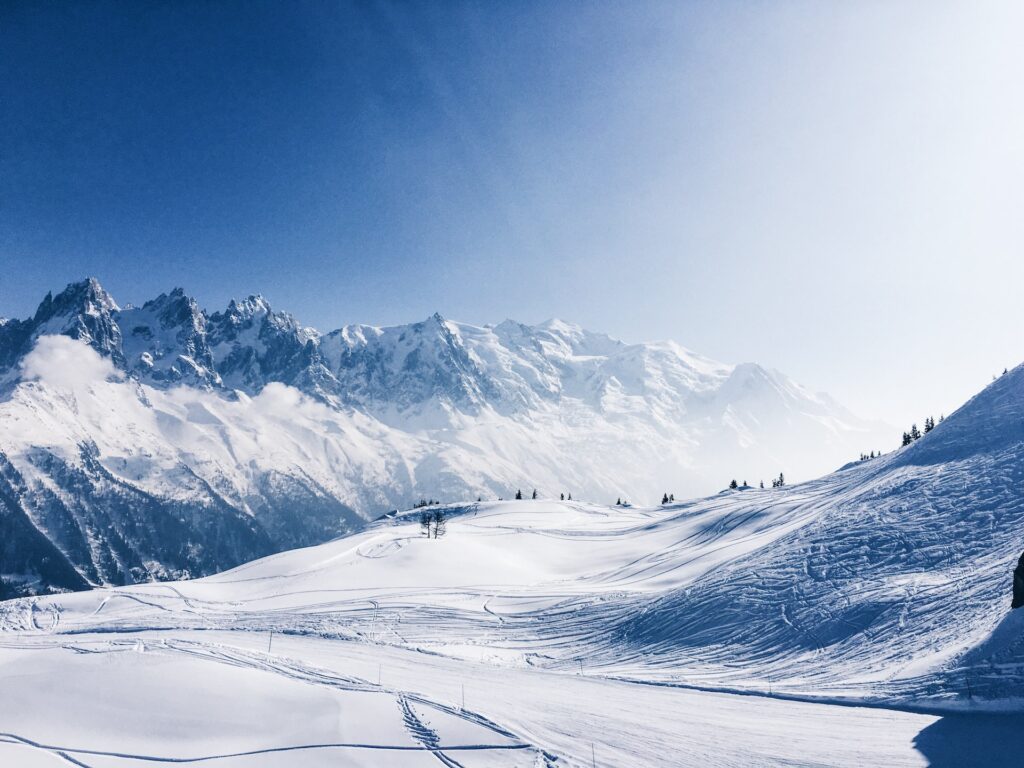 There is also The Verte piste, 4 kilometers of turns and jumps, that is used for World Cup races.
Chamonix ski area is delivering 100 miles of pistes including a variety of choices of terrain, spread across five mountains plus both sides of the valley. For experienced skiers, a must is 530 meters cable car ride to the edge of l'Aiguille du Midi (3800 meters above the ground) for breathtaking views and the 13 miles long Vallée Blanche, the world's longest off-piste ski route.
There are many areas for intermediate skiers with terrains of all difficulties such as Brévent and Flégère areas that also include a mesmerizing view. Beginners will love the delicate terrains of Balme-Vallorcine ski areas plus there are learning clubs right at Domaine Skiable Des Planards or La Vormaine areas for all types.
This huge area is offering a lot of hotels but for you to enjoy a Michelin-star restaurant and 33 rooms plus 2 suites full of luxury and modern designs you have to book a stay at the 5-star hotel Hameau Albert 1er.
5) Zermatt, Switzerland
Enclosed by the Alp's tallest peaks Zermatt is offering 225 miles of enormous ski areas some of them over 10,000 feet. This elegant alpine village is based in Matterhorn, the most famous Switzerland mountain with plenty of modern facilities such as their lift system.
Not only does the Matterhorn give the town the most spectacular setting of any in Europe, but its diacritical profile is also visible from much of the 350-kilometer trail system connected to Zermatt.
With its unique setting at the foot of the Matterhorn, Zermatt mixes genuine Alpine legacy with topical architecture, hotels, and cuisine. In this car-free town strolling around or a horse ride is a must to live the experience to the fullest. The old architecture and glass structures come in contrast with the Michelin-starred restaurants.
Zermatt is known for its huge terrains, some of them even ending in the village making you literally ski home. The world's highest 3S cableway is Matterhorn Glacier Ride which carries over 1500 skiers an hour to the slopes.
The glacier is over an altitude of 3500 meters and makes skiing possible almost the whole year. A smother terrain is offered to beginners at Wolli's Park, but with the same breathtaking views. For experienced skiers skiing in two countries in one trip is a must as the southern face of the Matterhorn is in Italy, and skiers can ski over the Theodul Pass down into the Italian trail system in one day.
There are many hotels in Zermatt but the elegant Mont Cervin Palace and the modern Schweizerhof Zermatt are a must, offering central locations and every imaginable luxury.
---
Articles Recommended:
---
6) Val d'Isère, France
One of the world's best of its kind is France's Val-d'Isère the worldwide famous resort. Val-d'Isère is connected with neighboring high-altitude Tignes to offer more than 280 kilometers of ski pistes and skiable terrain, plus the two famous World Cup Men's Downhill pistes and the Grande Motte glacier, served by more than 165 ski lifts.
You can almost ski 365 days a year at Val-d'Isère as the lowest piste is at an altitude of 1500 meters and the highest can ever reach up to 3500 meters. So that makes skiing available even in July or August on the Glacier du Pisaillas.
There are ski pistes for kids and every skill level. Magic carpet-covered lifts will take you to the top of a smooth downhill slope and ski instructors will help you get down safely. Don't worry the views are still breathtaking and will take your ski experience to another level. Skier-friendly lifts are connecting skiers to different areas without long walks between them.
This car-free town will make your holidays unforgettable with its amazing partying nightlife and elegant restaurants. You have to visit Airelles Val d'Isère the hot spot for alternative skiing with its huge terrace featuring exclusive DJ sets. Plus the two newly opened restaurants, an open-kitchen theme René on the Mangard slope, and the 60-seat snack bar and a 100-seat terrace L'Empreinte Avaline are offering you a modern and luxurious way of dining.
The first Club Med Exclusive Collection resort in the Alps is now open, and the Club Med Val d'Isère is offering 220 modern rooms to spend your holiday in fashion. Plus the choice of the highest hotel in France, the luxurious Airelles Val d'Isère and Le Refuge de Solaise can do no wrong.
7) Val Gardena, Italy
One of Italy's best ski resorts is the one and only Val Gardena. With its sunny terraces, smooth skiing terrains, elegant hotels, and amazing dining choices, Val Gardena is among the world's best ski resorts. Val Gardena's over 150 kilometers of terrain and lifts and connecting with the neighboring slopes between the summit of the Gruppo del Sella, offering a total of more than 400 kilometers of connecting skiable pistes and a major lift system.
Val Gardena is a must for experienced skiers with nearly two-thirds of the terrain being made for them. But beginners and intermediate skiers still have more than 150 kilometers to enjoy.
With over 85 lifts including Italy's first eight-seater chairlift with heated seats, on the Piz Sella, that's offering a direct connection to the Sellaronda route, you can easily get access to all of the terrains. You can also visit 11 more resorts in the region as Val Gardena is a part of the Dolomiti SuperSki pass.
The three cultural villages near the Italian-Austrian border are adding a magical vibe to your holiday. Two cultures meet together at these three villages getting the best of both, encircled by the awesome Dolomites, offering an experience you won't be able to live in other resorts.
Ortisei, Santa Cristina, and Selva Val Gardena are not for crazy partying nightlife but you can visit Cortina for this, not so far away, instead you will be offered traditional and authentic Alpine houses and restaurants.
The first-ever vegetarian hotel in the Dolomites, Paradiso Pure set on the Alpe di Siusi, is a fit for everyone familiar with healthy living, sunset yoga classes, and luxurious organic building materials.