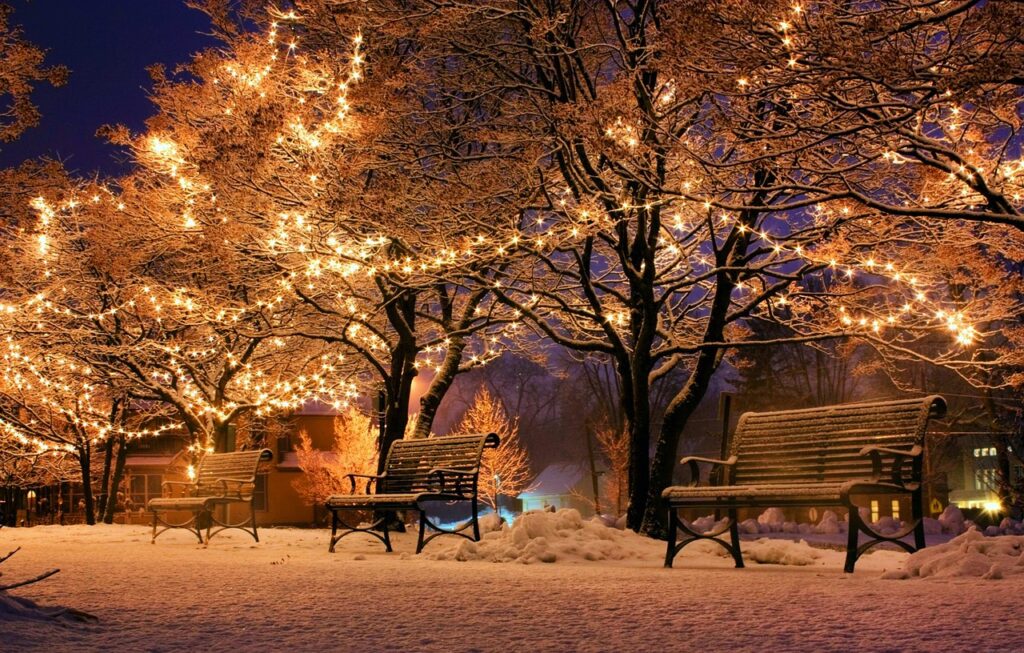 Christmas time is around the corner and we all are excited about this time of the year. You might have already made plans to spend Christmas time with your family and friends but these cities below will for sure make you change your mind. Amazing decorated cities with the Christmas spirit are waiting for you to celebrate together and create unforgettable memories.
Take a glimpse.
1) New York City, USA
New York just couldn't miss this list. With the tallest Christmas tree in the world and ice skating at Rockefeller Center, the amazing decorated city will give you magical vibes and let you celebrate the best Christmas of your life. The magnificent shops on Fifth Avenue for last-minute gifts and the breathtaking Empire State building are also adding to the vibe.
After dark walks are dazzling with all the decorations and lights plus the snow if you are lucky enough. The party that is organized every December 31 at the Times Square Ball Drop with the live countdown and the numerous crowd going on the next year together is something you have to experience.
There are numerous hotels for you to choose from to spend your holiday but for the best experience and the most comfort we are suggesting the newly renovated New York Times Square Hotel and Hotel St. James, both located in the heart of the Theatre District and they are minutes away from everything you desire.
2) Prague, Czech Republic
One of the most iconic cities for Christmas time is no other than Prague. The medieval style of over 400 years of architecture alongside one of the best Christmas marketplaces in the world is a perfect match, making Prague one of the most desired cities for the Christmas holidays.
The holiday markets are running for all of December making them accessible to all visitors and locals. The markets district is based in the heart of the city, right in the center of Prague at Old Town Square and just 10 minutes away at Wenceslas Square. This traditional Chech marketplace is a must if you visit Prague, you will be completely lost in time with its gothic streets where you can enjoy local goods such as Svařák typical mulled wine, Czech Christmas biscuits, and many more.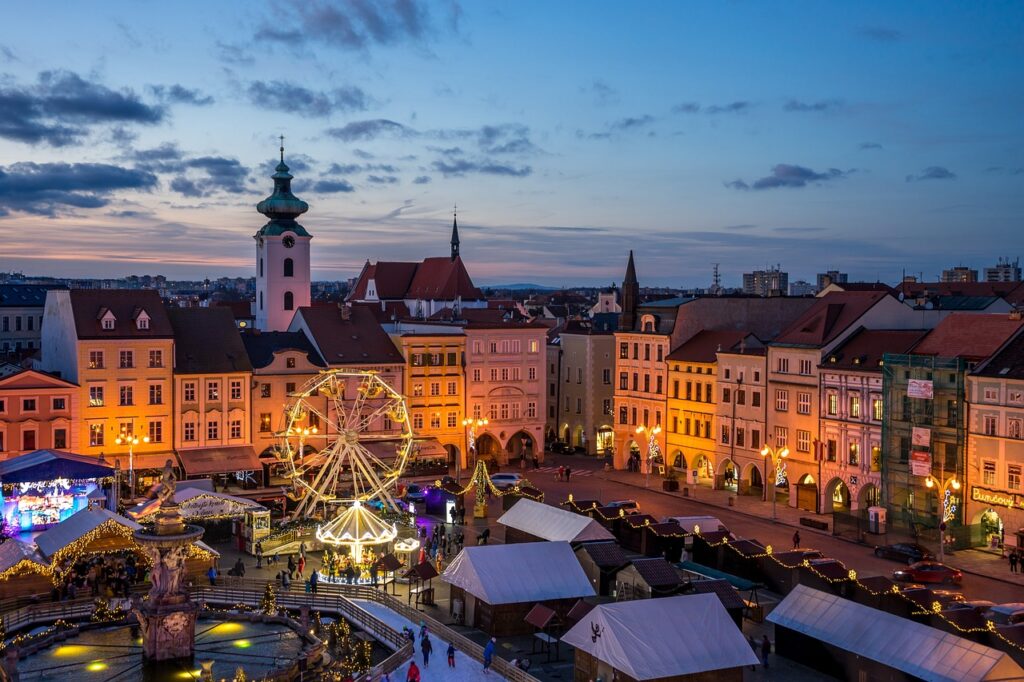 Czech Republic's reputation for good beers is also tempting you to try some of the best beers in the world at local stores alongside the local food. In the center of the city visiting Old Town Tower is a must if you want to enjoy a magnificent view from the city above and River Vitava if you want a more romantic scene.
There are plenty of hotels to choose from to spend your Christmas holidays in Prague. The newly renovated Hotel Klára in one of the quietest areas of Prague and just 400 meters from the Vltavska Metro Station, and Aria Hotel in just a minute's walk away from Prague Castle are our suggestions.
3) Vienna, Austria
Vienna is the best choice if you want to enjoy an avaricious Christmas vacation with its perfectly decorated streets and markets. Lights cover almost the whole city and the smell of Christmas cookies and mulled wine in these old-fashioned architectural streets are offering you a vibe like never before.
Vienna is transforming, every November-December, its streets and squares to the legendary Viennese Christmas markets. One of the most famous Christmas markets, Vienna Magic of Advent, is located in the city center near the Tree of Hearts and the Nativity Trail. The Christmas tree at Rathausplatz is also nearby and is for sure worth visiting. Also, another magical Christmas market is located in front of the Schönbrunn Palace for last-minute gifts, hot drinks, finger food, concerts, and a more romantic atmosphere.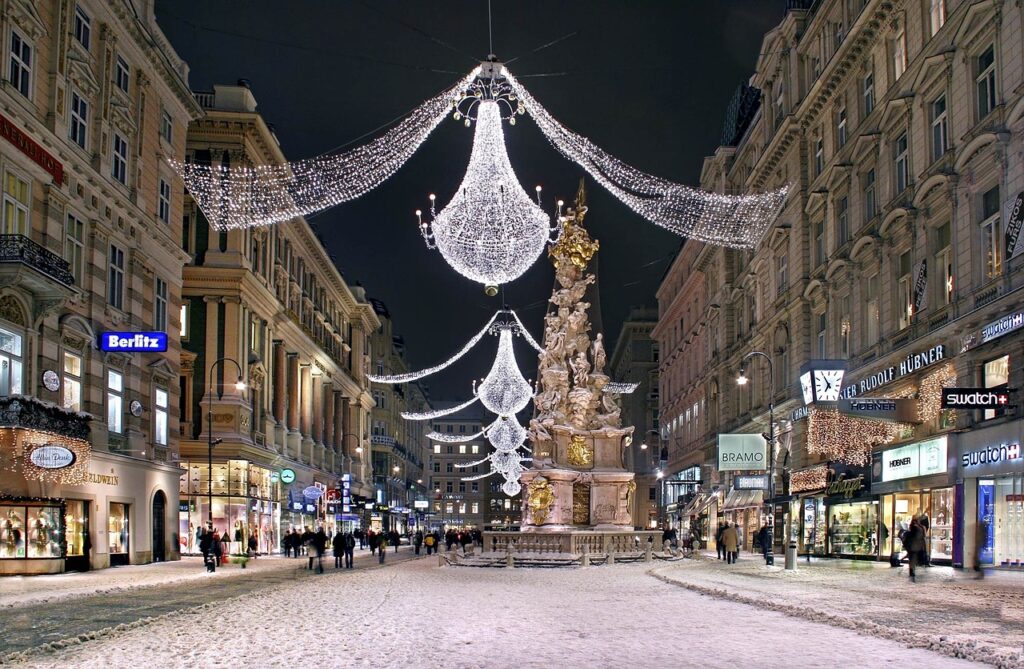 The melodic-angelic tune of the legendary Vienna Boys Choir performing in the streets is a tradition that won't break this year. You will be able to enjoy their tune in many Vienna spots. Near the St. Stephens Cathedral is the hotel with the biggest rooms in Vienna, Park Hyatt, and is a must if you want comfort alongside your holidays.
4)Edinburgh, Scotland
Scotland's Edinburgh is one of the most desired cities for the Christmas holidays with its artistic and international vibe. The city where Harry Poter was created is offering one of the biggest New Year's Eve parties in Europe, just in the center of the city. The new year is welcomed with a three-day Hogmanay Festival with magical concerts, drinking, and much dancing.
Christmas Market in East Princes Street Gardens is offering everything you ever wanted for your Christmas holiday. From handmade gifts, hot drinks, and local Christmas food, to skiing at Pentland Hills Regional Park, and ice skating at St Andrew Square.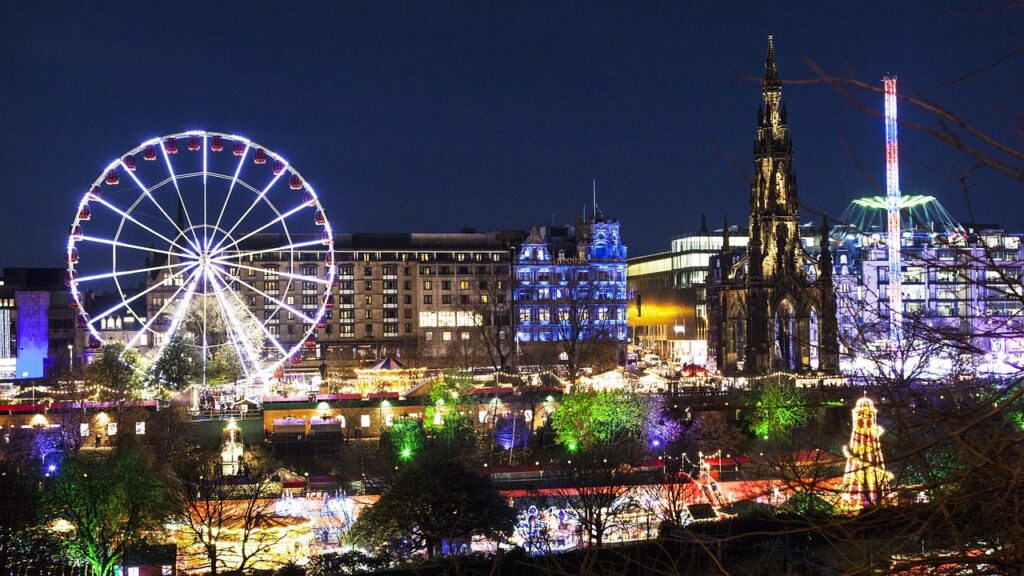 You can find whiskey literally everywhere in Edinburgh as the famous whisky 'Johnnie Walker' continues its partnership with Edinburgh's winter festivals. Whiskey will keep you warm and alongside to keep you company there is a festival going on this year to help new artists show their talent to the world.
The magnificent Castle of Edinburgh is giving you the opportunity for a never before experience, you can now dine in the castle alongside the other guests at the time. The night is the perfect time for you to explore Edinburgh on foot. Covered with Christmas decorations and lights this Harry Potter city is for sure magical.
If you are a view lover then you should book a room in The Bonham hotel based in Edinburgh's West End, where every room has a magnificent view of the city and is just minutes away from every shop you desire. On the other hand, if you want a more comfy and modern hotel, Radisson Blu Hotel, located on Royal Mile, is there for you.
---
Articles Recommended:
---
5) Dublin, Ireland
There is no better place to feel cozy and warm up in the cold snowy weather such as the Irish pubs. Dublin is one of the best at this job. The Irish capital is transforming in December into a magical place for all guests offering them an unforgettable Christmas holiday.
The streets are covered in Christmas decorations and lights offering a mesmerizing vibe plus the also Christmas-decorated shops offer you all goods from last-minute gifts to cookies.
Docklands are hosting a 12-day Christmas Market with concerts and many drinks of course making it even better. You can find many street singers adding to the vibe on many streets of the city. For the daring ones, there is a famous challenge of visiting all 12 Christmas pubs in one night, if that seems easy to you then you need to give it a try.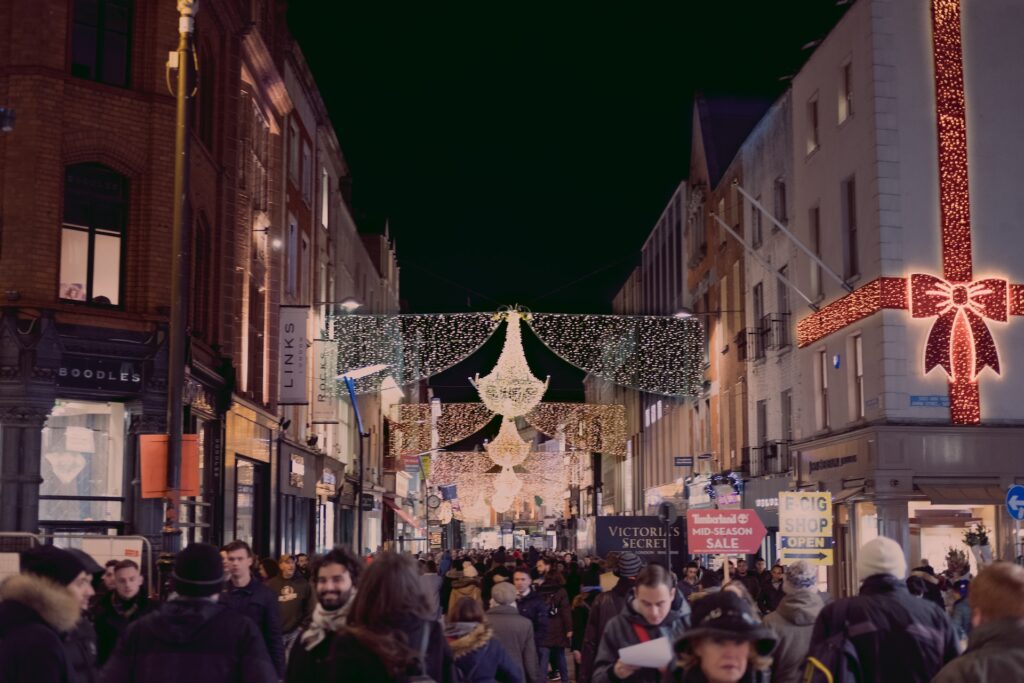 Dublin is not only about drinking there are many extraordinary places to explore and visit around the city with its castles and cliffs and of course its famous St. Patrich Cathedral.
Egans Guesthouse is one of the best accommodation options with its economical rooms and is just minutes away from the airport and the city center. For a more luxurious staying Westbury is there for you with its elegant rooms and major views.
6) Copenhagen, Denmark
Denmark has been one of the world's happiest countries according to the World Happiness Report, and the capital Copenhagen is just here to confirm it. Copenhagen is desired by many guests each year especially on Christmas due to its low cost and its Christmas vibe.
Every Christmas time the legendary Tivoli Gardens at the center of Copenhagen are transformed with almost a million lights and uncountable Christmas trees, there is also a rumor that some of the Christmas trees are being decorated with Swarovski crystals. You have to book a ticket early though because there are uncountable guests every year.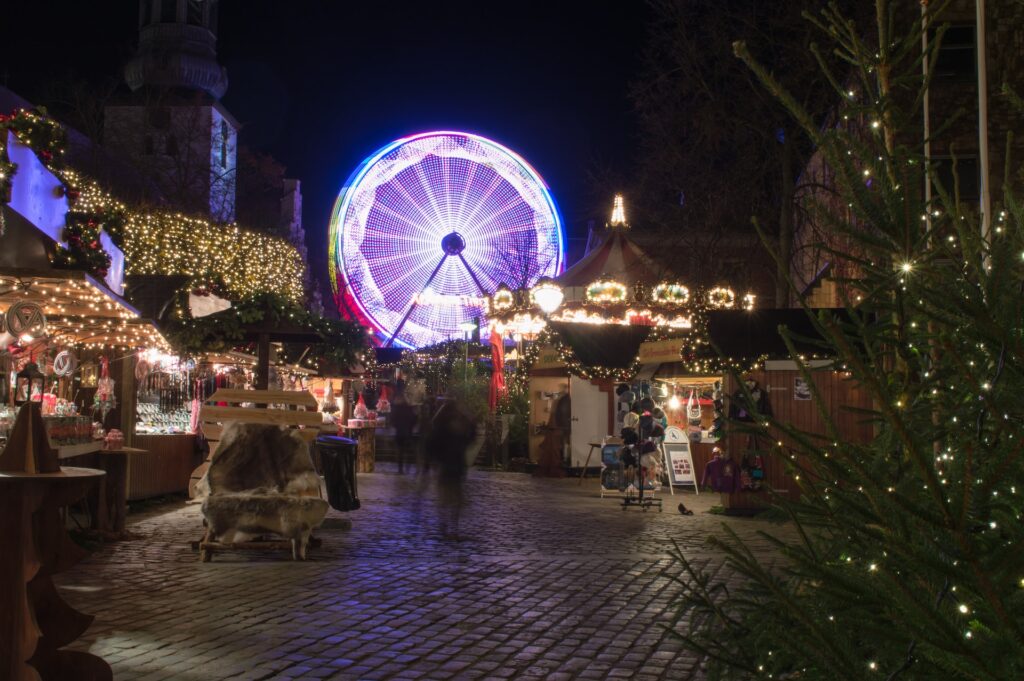 Although Copenhagen is small that's a plus because you can explore the whole city and take magical walks at night through the decorated streets and shops. This alpine-vibe city to add to its festive feeling is also including many Christmas-decorated castles you can visit such as the famous Kronborg Castle and the Rosenborg Castle.
If you are a cultural food lover then you should try the Danish dish 'andesteg' at Restaurant Villa alongside some wine. Copenhagen Marriott Hotel is a must if you want to enjoy a luxurious Christmas holiday with its modern rooms and is located just perfectly in the city only 5 minutes away from the Tivoli Gardens.
7) Strasbourg, France
Strasbourg, based in the center of Grande Ile, which offers the most archaic Christmas market in France and one of the oldest in the world just had to be on the list. Strasbourg is the 'mother' of Christmas holiday celebrations in France and is glowing every December with its millions of lights and magical Christmas Trees.
Strasbourg is including many Christmas-themed villages every one of them is offering different festive vibes, different shops, and different delicacies. The city itself is organizing numerous concerts and events for all types of fun.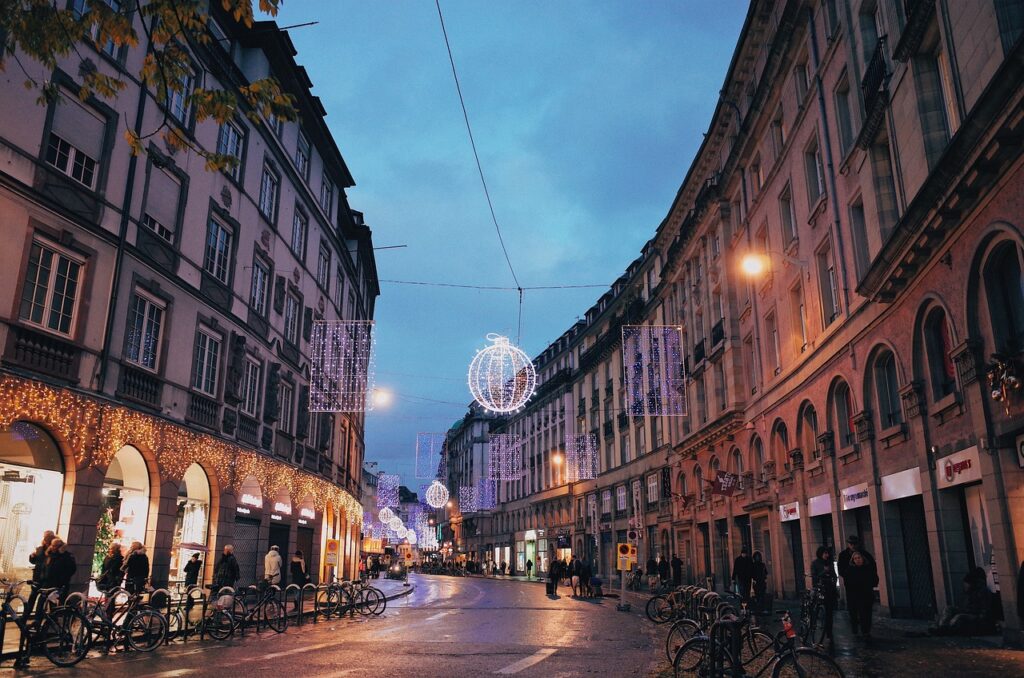 Strasbourg has been described as 'The Capital Of Christmas' with its amazing Christmas-decorated streets and shops and its festive vibe. A visit to The Strasbourg Cathedral which is the tallest remaining building from the Middle Ages is a must if you want to live gothic vibes from the old days plus it hosts a supreme market underneath it.
The numerous markets are offering everything you will ever desire from handmade gifts to all kinds of Alsatian foods, but trying foie gras is like a Christmas tradition in France. The best hotel out there is Hotel Les Haras which is based in Louis XV's legendary stables in Strasbourg.