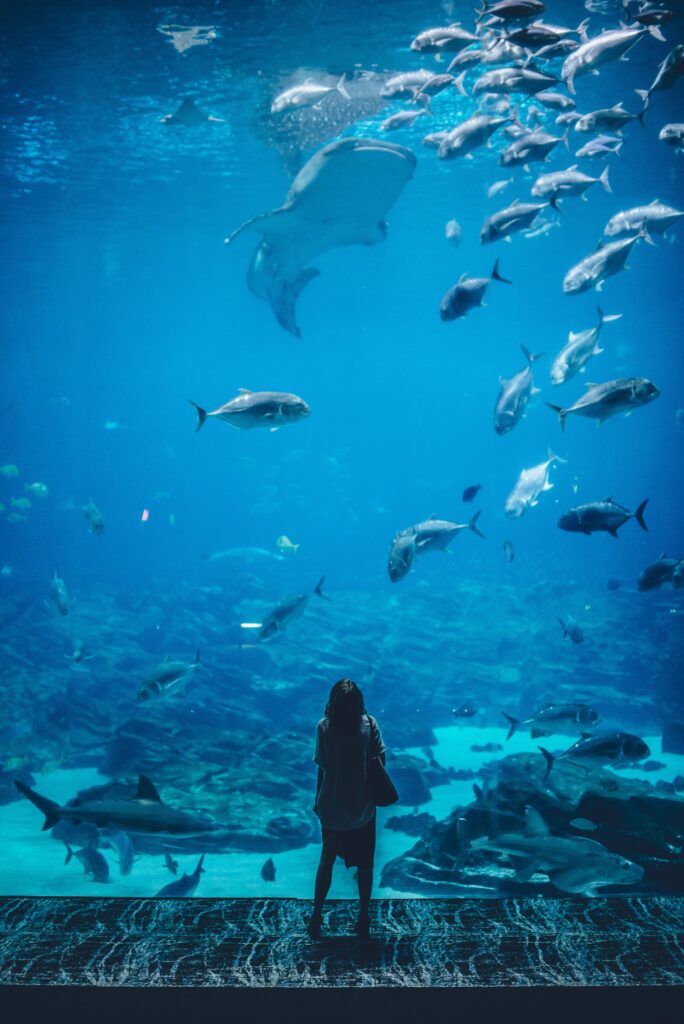 If you are looking for an extremely luxurious and mesmerizing holiday, the list below is perfect for you. Underwater hotels are offering amazing sealife views and once-in-a-lifetime experiences that will make your holiday unforgettable. We are presenting you the list below with lots of alternatives for every wallet.
1) Conrad Maldives Rangali Island, The Muraka – The Maldives
The Muraka is the first ever made underwater villa and is located at the Conrad Maldives Rangali Island almost 16 feet (5 meters) below the surface. This two-level villa opened its doors in 2018 offering a luxurious bedroom with glass walls so you can enjoy and soak in the Indian Ocean's sea life plus an also luxurious bathroom. You can literally fall asleep to fish swimming around you. The upper part of the villa is offering an amazing infinity pool, 2 glazing bedrooms, and a bathroom.
Personal chef, butler, fitness trainer, and many spa options are also offered by the 5-star resort. There are also many child facilities and experiences to keep them busy, such as the Junior Diving Course, while you are exploring the island. Private jet skis and speedboats are also there for you.
The word Muraka translates to coral in the local language of Dhivehi, so the most expensive coral in the world can host up to 9 guests and it costs around $50,000 per night offering you a once-in-a-lifetime experience.
This amazing resort is also home to the all-glass underwater restaurant Ithaa Undersea Restaurant also 16 feet (5 meters) below sea level serving lunch and dinner to the guests taking the experience to another level. You can arrive at Muraka with a private seaplane or take a speedboat from Conrad Maldives Rangali.
2) Atlantis, The Palm – Dubai
One of the best and most luxurious resorts in Dubai and one of the best underwater villas, Atlantis The Palm is located in the Emirates offering more than 1500 rooms and suites.
There are only 2 underwater suites, named "Poseidon" (the Greek God of the Sea) and "Neptune" (the Roman God of the Sea), so you have to be fast with the reservations. These 2 amazing underwater suites are not exactly below sea level but they are surrounded by the hotel's gigantic aquarium that is hosting more than 65.000 different sea life species.
The underwater suites are offering amazing views with their floor-to-ceiling window walls and are also offering 24-hour private butler service, airport transfers, private cabanas at the resort's pool, and beach, in-suite check-in, and unlimited water park entrance. You can also go scuba diving and have amazing encounters with the sea life of the aquarium and especially the dolphins.
This 5-star resort is making sure inside these 2 villas you will find every comfort and luxury you will ever think about on your holiday. The cost of the underwater villas is about $6300 per night with all the perks said before. The resort is also offering an undersea restaurant, Ossiano with dishes that will blow your mind.
3) Hotel Utter Inn – Sweden
Mikael Genberg, a local artist, and sculptor have delivered one of the most unique underwater villas, if not the most unique. Around 600 meters from the city of Västerås and based on Lake Mälaren, Swedens Hotel Utter Inn is a red floating paradise.
Although this villa is way smaller and cheaper than the usual underwater villas it still has a lot to offer. The upper side has a small dock for a boat, an outdoor deck, and chairs for two so you and your partner can enjoy the sunset together alongside some whine or go swimming until it's time for bed.
The underwater part is around 10 feet (3 meters) deep and its offers twin beds, a bathroom, and window walls offering a panoramic view of the deep blue waters and marine life around you. The whole villa doesn't provide electricity so you will have to get ready for a relaxing day without phones, television, and most importantly the internet. The food is being delivered beforehand in cooler bags but you can also order more and it will be there fast with a canoe.
The villa is only open during the summer months and it can host up to two people, making a perfect getaway for a newly married couple or for couples that want to live the experience alone and away from everything.
---
Articles Recommended:
---
4) Cruise Whitsundays Reefsuites – Australia
One of the first Australian underwater villa resorts, Reefworld, is based around 45 miles from Airlie Beach, at Handy Reef with the greatest collection of coral reefs, and its offers both daily guests and overnight guest at its underwater villas.
Reefsuites, the two underwater villas, are part of the Reefworld resort at the Whitsunday archipelago with a total of 74 small islands, offering a mesmerizing experience of the sea life. All guests are arriving at Reefworld early in the morning with a luxurious yacht sailing through many Whitsundays Islands until you get there.
Then they are taking a small tour of the place and after that, they will be taking their lunch. After they can go swimming or scuba diving or just relax in this peaceful place. The daily guest will be leaving in the afternoon but the overnight lucky guests will be hosted at the two luxurious underwater villas with an all-inclusive experience.
The suites are both underwater 13 feet with floor-to-ceiling window walls offering a panoramic view of the sea life, a king-size bed or twin beds, and a bathroom. The price is also all the meals that are being served and many privileges such as a personal instructor for scuba diving, a submarine tour through the deep blue waters, and even a helicopter tour over the Whitsundays island for a mesmerizing experience. They also have unlimited access to discovering underwater life through the resort's facilities.
5) Resorts World Sentosa Ocean Suites – Singapore
Singapore and its Resorts World Sentosa are offering eleven luxurious underwater villas, located on the southern edge of Singapore on the island of Sentosa. These two-level villas are based beside the second largest oceanarium in the world, with over 42.000 different sea life species, SEA Aquarium and the Adventure Cove Water Park.
There are also many 5-star hotels and several Michelin-starred restaurants in the area, so you have many options. The underwaters villa's upper level consists of a large luxurious living room connected with an outdoor patio that includes a personal jacuzzi.
The underwater level is offering a mesmerizing panoramic view of this huge aquarium and is the perfect choice for relaxation and meditation in your own underwater bedroom. Of course, all modern goods are also being offered such as Wi-Fi, air conditioning, and much more. A personal butler for everything you need is also at your command. Prices for the underwater suites start at $1,750 per night. The area has many more things to offer if you want to get out to explore Sentosa Island and its history-culture.
6) Intercontinental Shanghai Wonderland – China
Ten years were too much of a time to wait for the Intercontinental Shanghai Wonderland resort to be built but we are ensuring you it was for the best as this luxurious resort is considered one of the best of its kind and the best in China.
Built in an abandoned quarry in Songjiang about 30 miles from Shanghai this resort is offering 16 underground floors, two of which are underwater. Over 350 rooms and suites are waiting to provide every guest with an experience like never before.
This five-star resort is offering two underwater floors, one is for dining at its amazing underwater restaurant and the other one is hosting six underwater suites to live it to the fullest. There are also two underwater pools where you can literally swim in water underwater.
These never seen underwater suites are two levels and are offering a bedroom with a panoramic view of the aquarium and a living room offering you every good you need for a luxurious stay. The six underwater suites and underwater public spaces are all forming the so-called The Lagoon. Every night the five-star resort puts on a magnificent water show that's free for guests to view from their villas.
The resort is also offering many activities such as rock climbing, kayaking, and bungee jumping over the quarry. Children's activities are also offered by the resort so you can enjoy some time for yourself. There are also many beauty salons, spas, and saunas alongside the outdoor pools for relaxation time. Prices per night start at $15,000, and the suites come with Club InterContinental exclusive privileges and butler service.