Amazing landscapes, breathtaking sceneries and unique experiences is what you can expect from your visit in Iceland. So take a look at our suggestions below and plan your trip wisely!
Reykjavík, the capital of Iceland is probably the best place to stay and use as a starting point for your adventures. You have a lot to see in the capital. And in addition, most of the attractions displayed below are actually pretty close to Reykjavík and are accessible mostly by car.
Iceland is for sure a must-visit country in Europe! Here are the best tourist attractions in Iceland:
Blue Lagoon
Blue Lagoon is the more popular geothermal spa in the country and one of the most visited places in all of Iceland! It is located very close to Reykjavík (about 30 minutes away) and offers a unique experience that you will not find in the whole world. Between the Reykjanes Peninsula, you will find an amazing setting that since the 1970s has immerged into a famous tourist attraction with lots of different experiences to offer.
You can do a variety of activities, from bathing in the warm blue water which reaches about 38 degrees Celsius to getting relaxing face masks and get a spa treatment. It is said that the water is beneficial for your health and skin. Also, you can book some special private treatments that the Blue Lagoon provides!
Whale Watching
If you ever visit Iceland you have to go whale-watching and there is a 90 percent chance that you will encounter one of the many species that lurk in the waters! You will most likely see whales, dolphins, and many more water creatures and if you are super lucky you might come across a rare orca whale or a blue whale.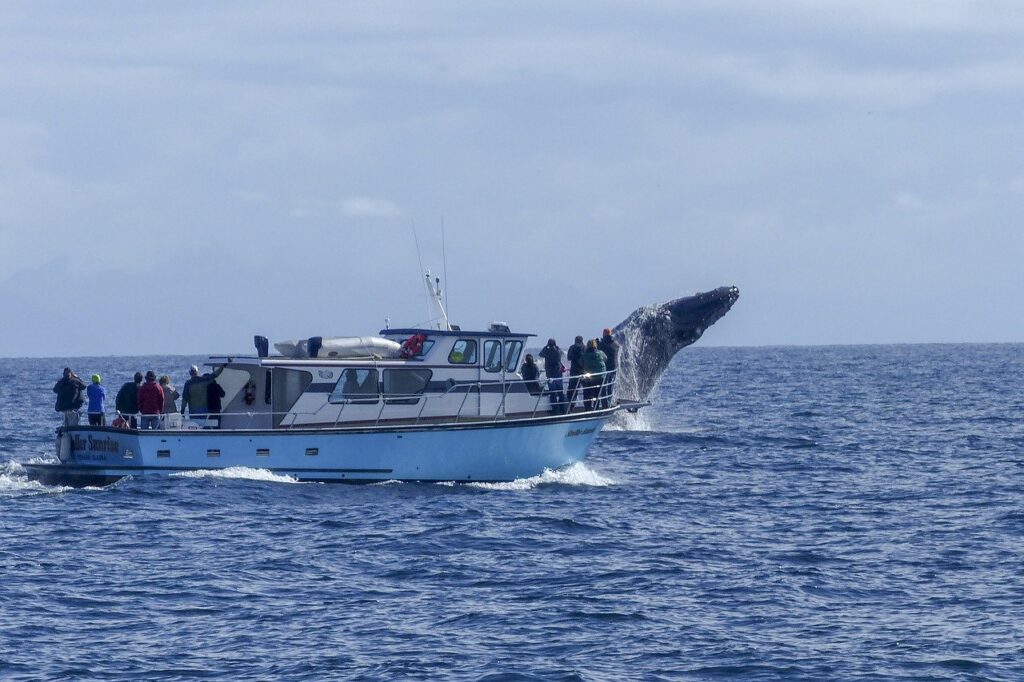 Whale-watching happens all year, every day, and is often combined with bird-watching and a boat ride through the icy cold waters of Iceland or even a visit to small islands. Famous starting points for such adventures are Reykjavík, Akureyri, and Húsavík.
Grundarfjordur
Grundarfjordur, around 2.5 hours away from the city of Reykjavík is a small yet iconic fishing town. It is located towards the north of the capital, by the mountains and especially the famous Mt. Kirkjufell.
Go hiking and explore the outskirts of the village like a Viking. Along with the charming fjord, Grundarfjordur has to show amazing waterfalls and streams surrounding it.
The place is suited for outstanding photos and provides a great setting all around for visitors from all over the world. And if you are wondering where you will experience the best view of the Northern Lights maybe that is the place!
---
Articles Recommended:
---
Landmannalaugar
Not so far south from the capital city of Reykjavík is the Landmannalaugar National Park, a famous tourist attraction in Iceland. The landscape is splendid and offers hot springs, volcanos (Hekla Volcano), lava fields, and mountainous areas.
Popular activities include: choosing one of the numerous hiking trails while observing the amazing scenery (can take from a couple of hours to even days) and horse riding that also presents an exceptional outcome.
Gullfoss Waterfall
This majestic waterfall is probably the most famous in all of Iceland! It's about an hour and a half drive from the capital and is a must if you are visiting Reykjavík. The river Hvítá drops into a canyon and creates that huge waterfall that has a height of about 32 meters.
The fantastic setting is completed after adding the hills and mountains that surround the waterfall. You can forget about time just by watching at this waterfall.
Akureyri
The self-proclaimed capital of north Iceland, Akureyri, is a small city which is located in the middle of mountains and the longest fjord in Iceland. The city's population is rather small (lower than 20,000). Akureyri is a fishing town at the edges of the Eyjafjordur.
The fact that makes this city stand out from the rest in the country is that in summer it even reaches 25 degrees Celsius which is very rare for Iceland. Also, Akureyri is a very decent skiing destination.
The center of the city is full of interesting shops and cafes and the city is very lively in general. You can also learn about the city and its history by visiting the Akureyri Museum.
---
Articles Recommended:
---
Lake Myvatn
Lake Myvatn, a unique Lake which creation goes back around 2,500 years and is said to be created by a volcanic eruption. The lake is situated not far from Akureyri and offers a fantastic day trip.
Lake Myvatn offers an uncommon landscape consisted of mud pools, volcanos, and all sorts of craters. The place is also a paradise for bird-watching and hiking! Visiting Lake Myvatn is an adventure that you cannot miss.
Vatnajokull National Park
In the south part of Iceland, you can spot the amazing Vatnajokull National Park which has a variety of activities to do and things to admire. The place is known for its eponymous glacier and is best when visited in winter.
Vatnajokull National Park is divided into four different sections. The Park's area is immense and offers a picturesque landscape featuring volcanos, canyons, breathtaking ice caves, huge waterfalls, mountain views, and of course wildlife. The park is home to reindeers and other beautiful creatures. Lastly, you can even drink fresh water straight from the source if you manage to get to the surface of some ice caves.